We recently got back from a trip to Los Angeles this July 2017. We realize that although you are probably from Western Canada, our neighbor across the border is close enough that you could be planning a trip in the future.
True to form of being the entertainment capital of the world, Los Angeles delivered some of the best escape room experiences we have ever had. Featuring movie-like set pieces, the rooms never failed to amaze us–both in scope and grandeur.

Keep in mind that although the Internet would suggest that there were arguably better rooms available (Hex Room – Cross Roads Escape Games, The Basement – The Basement), our options were limited. It was only Ben and I playing so we had limited options of rooms catering to two people.
Here are all of the rooms that we did, carefully chosen based on Facebook groups and travel review sites:
PS: The photos are taken from the companies' official websites. Don't be cheesed out by them as they are not indicative of how the rooms actually look.
****
Premise
You stumble upon a shack in the middle of the woods. It's up to you and your friends to awaken and feed the giant (yes, an actual giant is in the room) and bring back light to this dark magical kingdom.
Highlights
Without spoiling anything, this room was unlike anything we've ever encountered before. You are transported to a setting reminiscent of a fairy tale, thanks to the magnificent use of lights, visuals, and physical props. There was also a very, very cool task that was very, very exciting to complete–all one second of it.
Shortcomings
Tech-heavy rooms are usually susceptible to glitches. This one, unfortunately, was not glitch-free. We were also able to complete the final task based on speed, instead of how it was intended to be completed.
Overall:
Diamond

This was fairy tale theme done right. Hands down, one of, if not the absolute best escape room experience we've ever had.
****
WIZARD'S WORKSHOP (60 Out)


Premise
You are a newly-appointed apprentice. Your teacher was careless enough with his magic and made his body disappear. Your task is to reunite your teacher's body with his now homeless soul.
Highlights
The set pieces in this room were incredible. Starting in a nondescript wizard's office with no obvious puzzles in sight, you make your way through different rooms that consisted of larger-than-life props. The room also requires players to perform actions that are otherwise not typically allowed in escape rooms. Our mouths were agape at different points of the room. "Did we really just do that?"
Shortcomings
What was supposed to be a fantastical theme became science fictional at times. A tremendous machine served as the centrepiece for one of the rooms. Though it was impressive in scale, it felt out of place.
Overall:
Diamond
We highly recommend this room for being whimsical and out-of-the-box. It's not often that beautiful set pieces are paired with a creative puzzle blueprint. Try it especially if you grew up on Harry Potter like we did.
****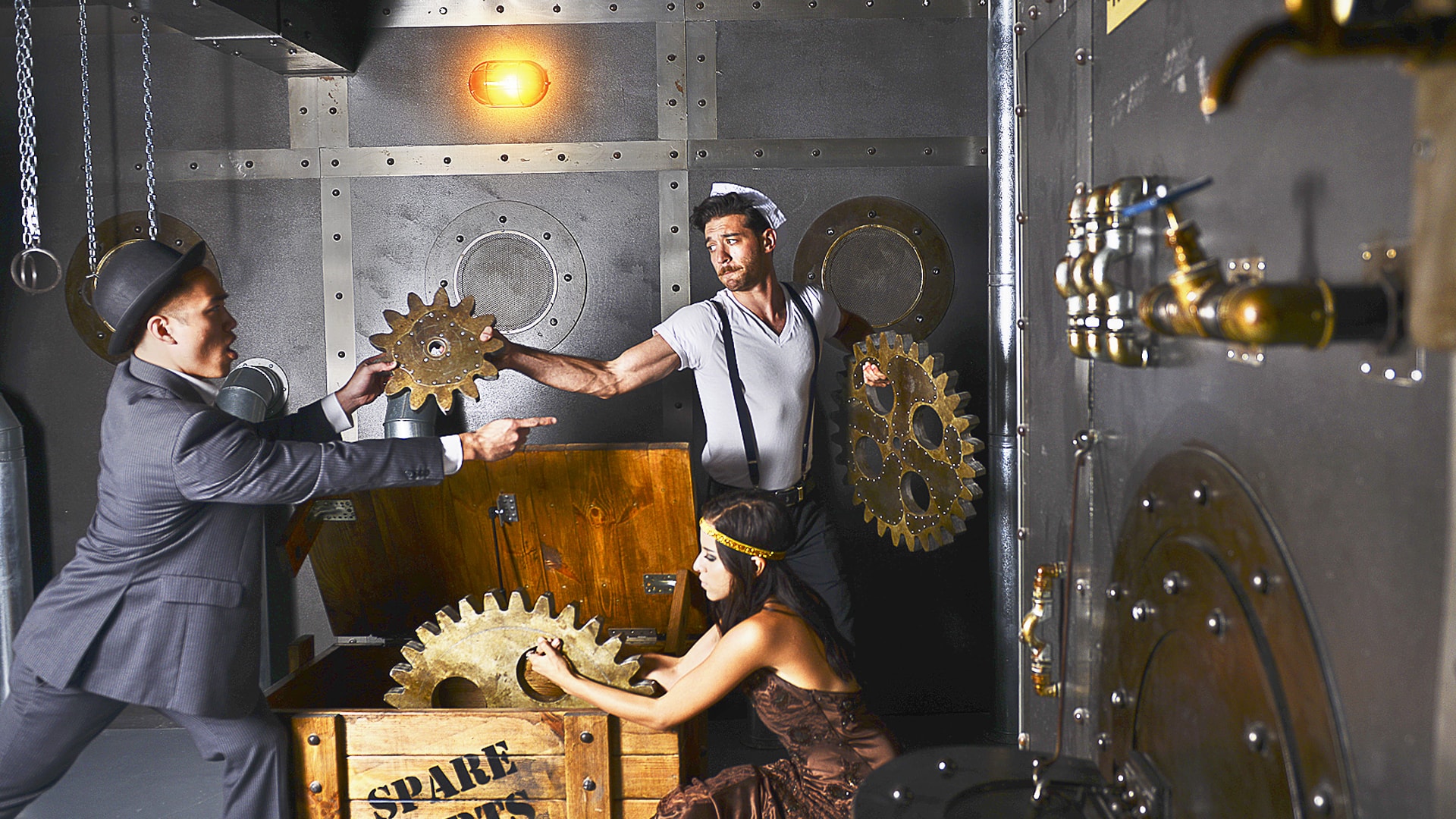 Premise
You've traveled back in time and you are now part of Titanic's engineering crew. Quick! Activate the controls, reverse history, and save lives.
Highlights
This room wins the award for having the most realistic setting. Boasting metallic walls, gigantic pipes and gears, and rustic walls and floors, it was a fantastic replica of the real thing. The puzzles were the apparatuses themselves as the room allows you to manipulate the ship like a real crew member would. Forget using your fingers to pick locks and dials, this room will make your entire body #werk. There was also one familiar item here that seemed to serve no purpose, only for players to realize its placement to be sheer genius.
Shortcomings
The room was spacious, although at times the massive space felt suffocating. While the room may look like an actual ship, it never felt like we were on one.
Overall:
Diamond
Half-puzzle-based and half-task-based, Titanic is a must-do room. You will love it and you will never let go.
****
Premise
This is the movie Gravity in escape room form, except this time George Clooney and Sandra Bullock are both the protagonists and share equal responsibilities. Reunite with your team member and head back to Earth.
Highlights
This room had a room within a room within a room, like a Russian nesting doll. Each compartment features moderately difficult puzzles and tasks. It is also surprisingly physical, requiring players to run (and crawl) back and forth through the labyrinthine space. It all ends in a very satisfying but nausea-inducing moment.
Shortcomings
There was an entire room decorated with puzzles and props that was completely irrelevant and bypassable.
Overall:
Diamond
This is a must-try if you're a puzzle-lover and enjoy this genre.
****
Premise
You snag a one-way ticket to use aboard a train when you're suddenly tasked with the job of defusing a bomb.
Highlights
Long and divided into multiple carriages, this room smartly uses its space. It's decorated elegantly with set pieces, akin to what you would see on a train in early 20th century Europe.  The puzzles are laid out nicely within a sensible progression.
Shortcomings
The room had multiple scavenger hunt-oriented tasks. Not being able to find items in the dimly lit room became frustrating and we wanted to wave a white flag.
Overall:
Platinum

We finished with single-digit seconds to spare which admittedly amplified our experience. Fast-paced and showcasing a clear puzzle progression, this room is worth it.
****
GHOST SHIP (60 Out)
Premise
You are a pirate stuck on a massive ship with seemingly never-ending rooms. You are an impending victim of a wretched curse and it's up to you to break it.
Highlights
This room equally blends the themes "ghost" and "ship" to make for an atmospheric nautical conquest. It's part-horror, part-adventure. The puzzles will twist your brain and the special effects will make your hair raise. It all culminates into a very satisfying ending.
Shortcomings
There was a particular puzzle involving keys that we solved with plain trialing-and-erroring method. There were also a few glitches in the technology. This included a less-than-responsive audio feedback, supposedly to indicate correct puzzle-solving but that made us go "Huh? Where did that sound come from?"
Overall:
Platinum
This room was well worth the time and money for its sheer number of puzzles and tasks. Time will fly–with less idle thinking and more busy maneuvering.
****
Premise
In what is clearly not the smartest idea between you and your friends, you play a Jumanji-esque board game in the forest. Beat the game so you can escape.
Highlights
The puzzle progression was very unorthodox, largely anchored by a board game in the middle of the room. There was also visual feedback every time you correctly solved a puzzle which made for a very satisfying puzzle-solving experience.
Shortcomings
The look was very outdated, amateurish, and cheap. The puzzle instructions were numbered chronologically but the order was still somehow very jumbled and confusing.
Overall:
Silver

This room had a certain charm. We appreciated what it had to offer, but it has been left behind by time.